Uniform
Information for ordering uniform
Building strong relationships with parents and carers – based on mutual respect and trust – is at the centre of our school's ethos. We want our parents and carers to feel valued and to be fully involved in their children's learning and development.
Our clearly defined guidelines can be found here and some guidance pictures are included to further ensure that parents and carers are clear about our expectations.
Being fair and consistent is our key aim; if we are consistent in our expectations and responses, we can hold students accountable.
All students should be in the correct uniform for school. Our uniform rules will also appear in the September planner.
Update for ordering uniform
Orders can be placed https://ourschoolwear.co.uk/collections/sir-john-talbots
Samples of uniforms are available at our school so you can check sizing prior to ordering. Please arrange to visit the school office if you wish to try on uniform for size.
Unfortunately, no pop up shops will take place this year however we are offering free delivery to school.
RAM Leisure are open each day including school holidays and uniform is available to order via these channels:
Click and collect from RAM Leisure
Book an appointment to try on and buy directly from RAM Leisure
Order online and pay for delivery to home address
Order online and have free delivery to school
Postage will be £5.70 for 48hr tracked and £6.50 for 24hr tracked if sent to a home address. Returns can be sent back directly to RAM Leisure for £3.25 (returns information will be in the parcel)
To support with communication, RAM Leisure will adhere to a 48hr response time on emails to info@ramleisure.com – please ensure emails include order number, school your child attends, sizes and products needed to help with the query. We thank you for your continued support.
---
The uniform consists of:
A branded, grey, v-neck jumper

Year 11 wear a branded, black, v-neck jumper

A plain, white shirt/blouse
Branded school tie
Plain black trousers* or plain black knee length pleated skirt**
Tailored black shorts can be worn during the Summer Term
Shoes – must be plain black leather style (trainers, canvas-style and ballet pumps are not permitted)
*Trousers and shorts must be smart school-style only. Trousers must not be skin tight below the knee, hipster style or legging style. Material must not be cord, denim, stretch legging style or canvas/jean-style cotton and should not contain cargo pockets or logo labels.
**Skirts must be tailored in style with no fashion detailing such as pockets, patches or zips.
For PE, students will require:
A branded, PE polo shirt
Black PE shorts/skort/leggings
Branded PE mid layer (this isn't compulsory however no other jumper is permitted)
Yellow football socks either plain or branded alternatively white trainer socks are permitted
Football boots
Shin pads
Mouth guards (recommended) – can be purchased from the PE office
Black base layers
A full selection of uniform available to purchase can be found here. Alternatively, you can click on the below images to order. Whilst we do not require all uniform to be branded (see branded requirements above), some branded items are available to order as we know some families prefer the branded option.
Summer uniform:
In the summer term some small edits to our full uniform policy are made to allow students to dress comfortably when hotter days appear. Smartness is still important and so the following is followed:
In the summer term students do not need to wear their school jumper. On colder days, we expect the school jumper to be worn first before a coat. A coat without the jumper is not acceptable.
Shirts should be tucked in and may be short or long sleeved.
Ties should be worn down to the waist.
Tights do not have to be worn with skirts in the Summer Term, short plain (no logos or embellishments) socks in grey, black or white may be worn in their place.
Acceptable: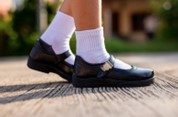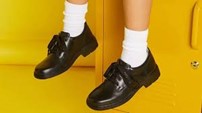 Not acceptable:


Acceptable:
Tailored black shorts may be worn as part of our summer term school uniform.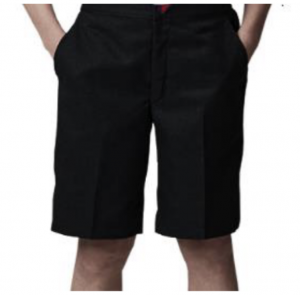 Acceptable:
Example of acceptable black PE shorts.
How do I order:
The following systems are in place to allow you to purchase all uniform items:
• Online (preferred option). Please visit and follow the link to visit our online shop or click on the items above which will direct to the website to order. 
• Via the RAM Leisure shop in Wrexham. Parents can purchase all items of the uniform and PE kit straight off the shelf in the RAM Leisure store in Wrexham. This purchasing option may be particularly helpful in circumstances where items need to be tried on to determine correct sizing.
RAM Leisure, Trinity House, Whitegate Industrial Estate, Wrexham, LL13 8UG.